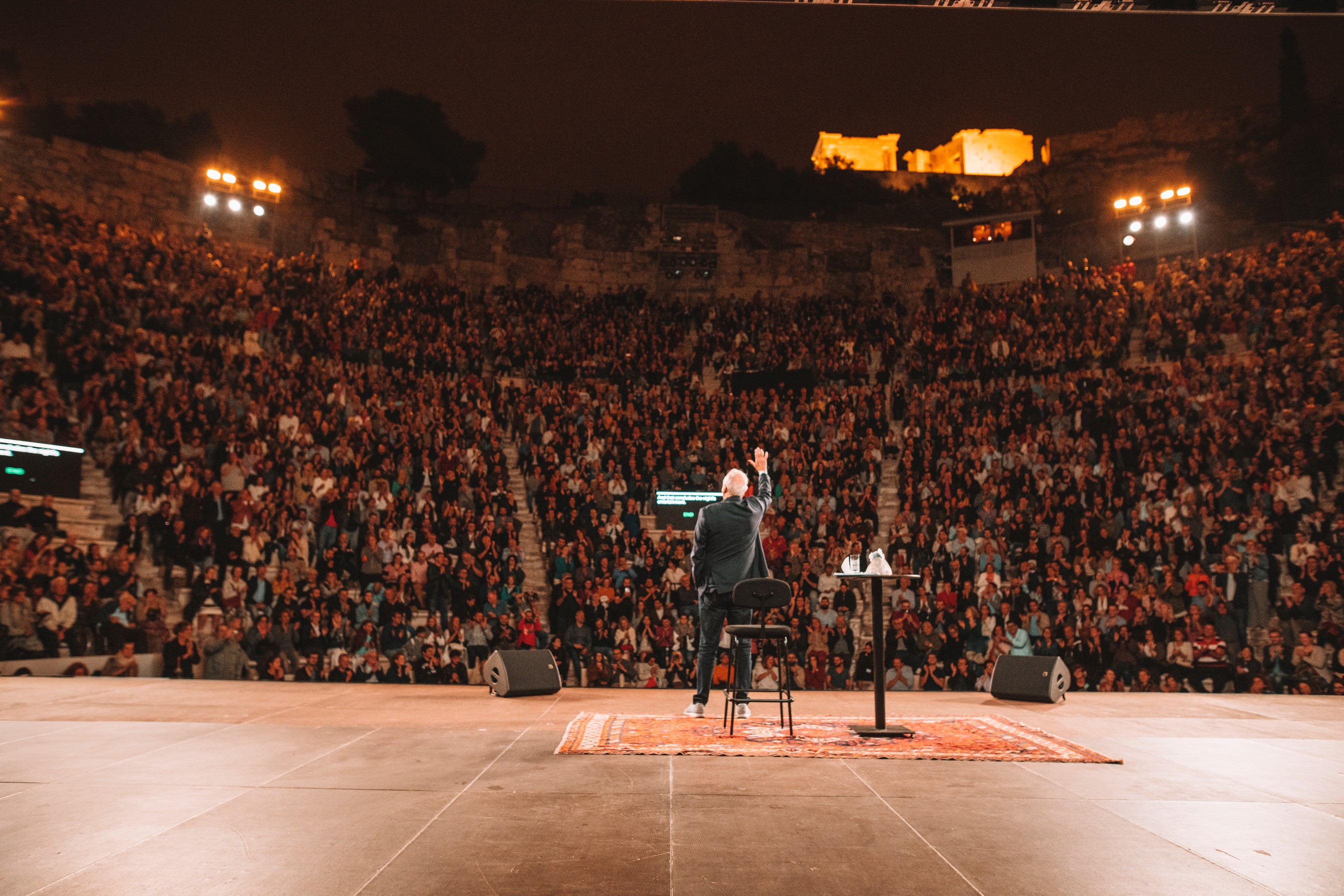 John Cleese live at the Acropolis
 John Cleese live at the Odeon Of Herodes Atticus (Sold Out)
"Last Time To See Me Before I Die"
Friday, September 20, 2019
21:00
British comedy icon John Cleese and legendary Monty Python member is coming to Athens for the first time on 20th September 2019 at the Odeon of Herodes Atticus.
John Cleese is a legendary comedy actor and performer, a New York Times bestselling author, an Oscar nominee screenwriter and a very, very tall person.
Born in a sleepy English town called Weston-super-Mare, England in 1939, John began writing as well as performing comedy sketches at Clifton College in Bristol and was a member of the Footlights Club while a law student at the University of Cambridge.
In the 1960s, his first professional writing venture was with "The Dick Emery Show" and later on with the satirical music sketch "The Frost Report" (1966) featuring David Frost. Cleese's success on the Frost shows led to a small role in "Interlude" (1968), his first film appearance.
Along with writing partners and costars Graham Chapter, Terry Gilliam, Eric Idle and Michael Palin, the legendary Monty Python troupe was created, which aired in 1969 with the sketch show "Monty Python Flying Circus". After that, Monty Python became a global phenomenon. He starred in four Monty Python films that include "Monty Python and the Holy Grail" (1975), which up until now is widely considered one of comedy's most influential films, "And Now for Something Completely Different"(1971), "Life of Brian"(1979) and "The Meaning of Life" (1983).
His next television endeavour was the all-time classic comedy series "Faulty Towers" (1975-1979) which he co wrote with his first wife, Connie Booth. The sitcom won high praise and was hugely popular thus receiving the 1980 BAFTA for Best Entertainment Performance. In 2000 the British Film Institute declared it the best British television programme ever made.
After huge UK success, John went on to crack the USA with "A Fish Called Wanda" in 1988, which he wrote and starred opposite Jamie Lee Curtis, Kevin Kline and Michael Palin. The film was a commercial and critical success, and Cleese was nominated for an Oscar for his script.
In 2014, John's memoir, "So, Anyway…" was released by Crown Publishing and debuted at #9 on the New York Times Bestseller's List. A fascinating and highly entertaining insight into his childhood and his early comedy days through to the first Monty Python programmes. He also has a keen interest in psychotherapy, and has written two bestselling books with analyst Robin Skynner "Families and How to Survive them" (1983) and "Life and How to Survive It" (1996).
In addition to his decade-long career in television, widely popular stand-up comedy and bestselling books, John has also appeared in many films, including "Time Bandits" (1981), "Silverado"(1985), "Mary Shelley's Frankenstein" (1994), "The Out-of-Towners" (1999), "Charlie's Angels: Full Throttle"(2003), "The Day the Earth Stood Still"(2008), "The Pink Panther 2"(2009), two Harry Potter films, and James Bond franchises. Cleese has also leant his voice in numerous films including "Shrek 2"(2004), "Shrek the Third"(2007) and "Shrek Forever After" (2010), "Charlotte's Web"(2006), "Trolls"(2016) and "Elliot the Littlest Reindeer"(2018). Again amongst many others, he has also, lucratively, appeared on some of the most successful US sitcoms in recent years, with one-off roles in "Cheers"(1987) and recurring characters in "Third Rock From The Sun" (1998-2001) and "Will & Grace"(2003).
In addition, Cleese became affiliated with Cornell University in New York in 1999, serving as A.D. White Professor-at-Large and later as provost's visiting professor. His various events at the university covered wide-ranging topics and formed the basis of the book "Professor at Large: The Cornell Years" (2018). In July 2016, he launched his own John Cleese channel on You Tube where is meant to host "seen, unseen, and 'should never be seen' material." Lastly, a New Species of Lemur and an Asteroid (9618 JohnCleese) were both named in his honour. He currently lives in London.
The performance is on the occasion of British Council Greece 80 years anniversary celebrations in Greece.
Links:
Website: www.johncleese.com
Facebook: www.facebook.com/JohnCleese
Twitter: www.twitter.com/JohnCleese