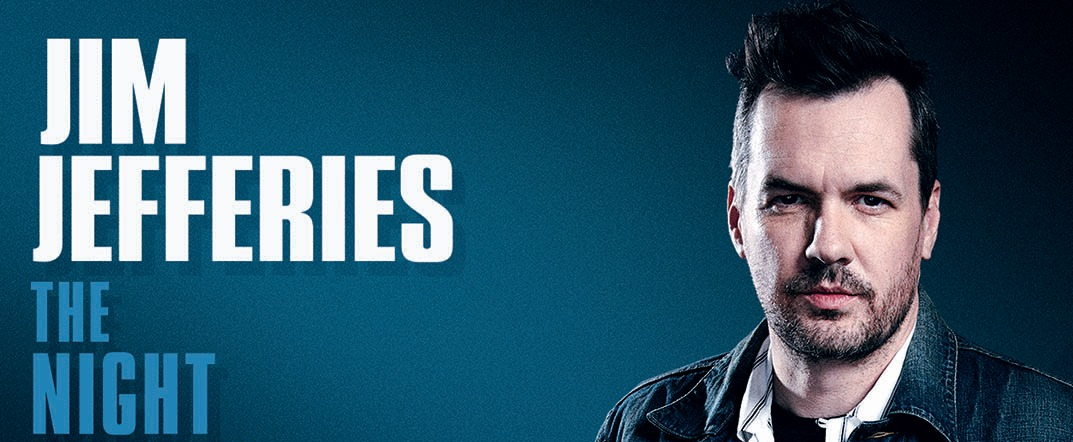 Jim Jefferies live in Athens
Jim Jefferies
Gazi Live
"The Night Talker Tour"
19 December 2019
21:00
Aussie stand-up, TV and Netflix star Jim Jefferies is coming to Greece for the first time and promises to offer the audience an unforgettable night.
8 Stand-up Specials (4 Netflix Specials), 4 TV Series, Host, Creator, Writer and Producer of "The Jim Jefferies Show".
Links:
Website – www.jimjefferies.com
Facebook – www.facebook.com/JimJefferies/
Twitter – www.twitter.com/jimjefferies
Instagram – www.instagram.com/jimjefferies/
Unconventional stand-up comedian, political commentator, actor and writer, Jim Jefferies is one of the best known names in comedy on the planet. Known for his ferocious black humor as well as his controversial, belief-challenging and thought-provoking comedy style that continues to surprise and entertain audiences across the globe, Jefferies has firmly established himself as one of the most popular, respected and innovative comedians of his generation. He was nominated for best headliner in the 2008 Chortle awards and was recently named one of the top 5 touring comedians in the world.
Born in Sydney, Australia as Geoff James Nugent in 1977, Jim Jefferies studied musical theater and classical music at the Western Australian Academy of Performing Arts located at Perth. He started doing his own stand up while still studying, initially with short-form jokes and then moved on to anecdotal humour when he finally began doing hour-long sets. In 2007, he became internationally notorious when he was attacked on stage while performing at the Manchester Comedy Store, but he later used that incident and incorporated it into his own stand-up comedy routines. Two years later, Jim burst onto the scene in the United States with the prestigious one-hour HBO special "I Swear to God". His additional successful comedy specials include "Contraband" (2008), "Alcoholocaust"(2010), "Fully Functional" (2012), "Bare" (2014) and "Freedumb" (2016). "Freedumb" was Jim's second to air on Netflix to critical acclaim, and followed the huge success of the first, "BARE", in which he delivered a now iconic routine on guns and gun control in the United States and is widely regarded to be one of the greatest pieces of stand-up comedy ever recorded.
He started performing in high profile events including Glastonbury Festival, Fringe Festival in Edinburgh, Melbourne International Comedy Festival, Just For Laughs Festival, and Reading and Leeds Festival, among others.He also featured on Comedy Central sitcoms such as "Edinburgh and Beyond", "Comedy Blue" and "The World Stands Up".
The hilarious comic is now world famous, not only for his stand-up but also for featuring on American television in the critically acclaimed FX sit-com "Legit", which he created, wrote, produced, and starred for the last two years and has since gained a lot of positive attention. Jim has guest starred on many television comedy panels in the UK such as, "Never Mind the Buzzcocks", "Have I Got News for You", "The Heaven and Earth Show" and "8 Out of 10 Cats". Also in US comedy panel shows such as, "The Green Room with Paul Provenza" and Comedy Central's "@midnight". In addition to his own television show, comedy specials, widely popular stand-up comedy and multiple appearances on comedy panels, Jim has also been featured on various radio programmes, including BBC Radio 5 Live's Saturday morning sports show, "Opie and Anthony" and "Fighting Talk". He has also garnered success in the movie world, most recently appearing in "Killing Hasselhoff" (2017) and "Punching Henry" (2016).
In 2017 Jim appeared in late night entertainment on Comedy Central with his very own television series, "The Jim Jefferies Show", which destroys the paradigm of the political late-night show. The weekly satire series features Jim travelling both in the U.S. and around the globe covering numerous and controversial issues on politics and current events with piercing insight and a unique viewpoint. His sharp social commentary to culture and politics and at the same time insightful, honest and comedic perspective towards various top stories proved successful and earned him two additional seasons. Jim also continues to head up the weekly podcast series, "The Jim Jefferies Show Podcast", co-hosted with fellow comedian Forrest Shaw. The podcast, from Comedy Central's Podcast Network, includes interviews and discussions with a variety of guests discussing in-current news and politics, and all the things he couldn't, wouldn't and shouldn't say on TV.
Of course stand-up comedy is what Jim Jefferies is best known for. His international stand up tour, "The Unusual Punishment Tour", kicked off to rave reviews both nationally and internationally through 2018. Later on, he released his third Netflix comedy special "This Is Me Now" in which the comedian unapologetically keeps it real when he opens up about the challenges of being a single father, reflects on the time someone tried unsuccessfully extort him for money with a sex tape and the weirdest gig he's ever played.
With a monumental eight comedy specials, his own acclaimed sit-com and self-titled late show on TV, sold out arenas around the world and an hour-plus of brand new material every time he hits the road with a new tour, Jefferies is considered to be one of the most prolific comedians working today.
This is your one and only chance to see the great Jim Jefferies, one of the most accomplished and celebrated performers ever, in Athens!
Venue:
ΓΚΑΖΙ LIVE
11 Iera Odos, Gazi
118 54, Athens
213 0185040