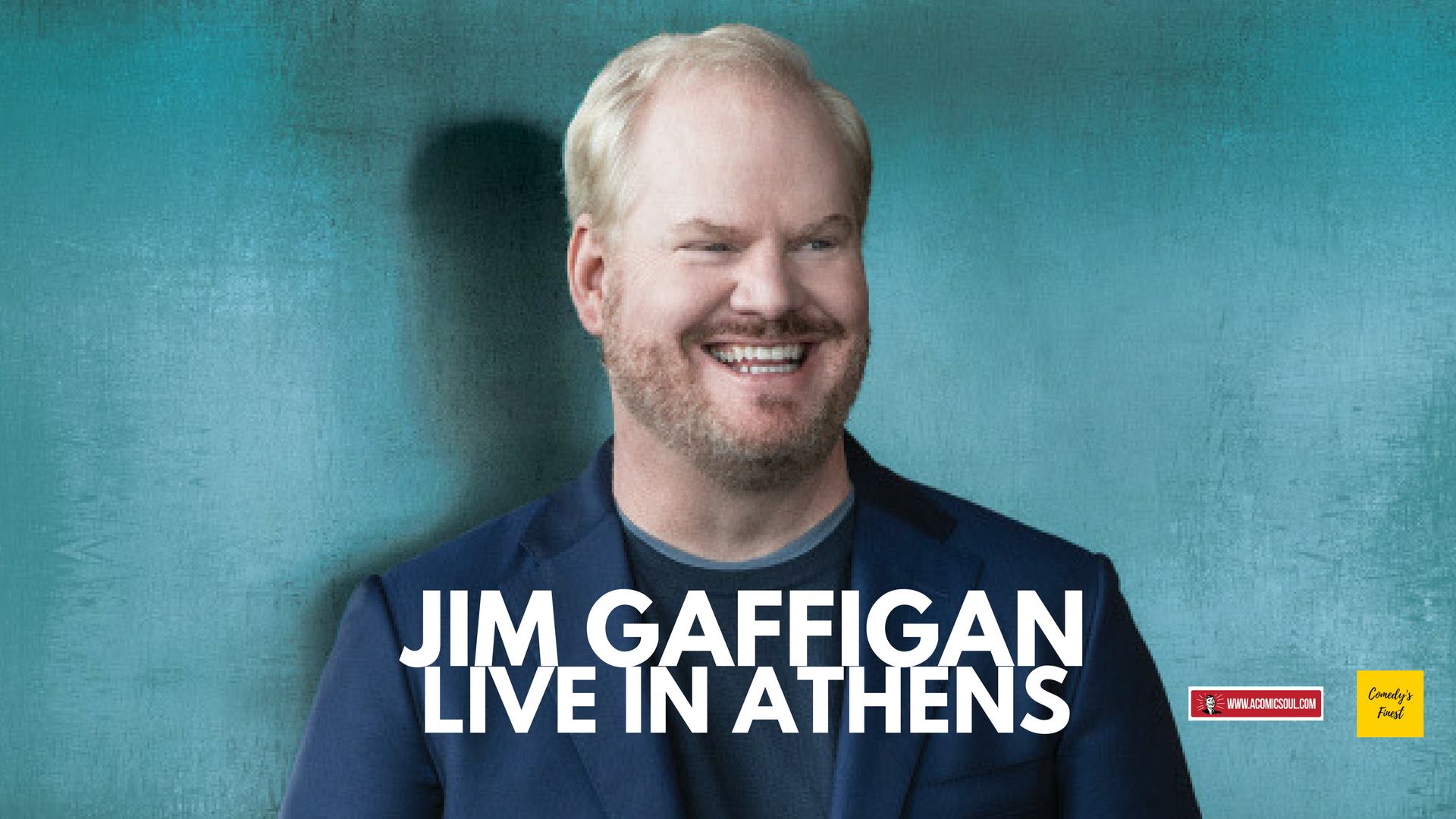 Jim Gaffigan live in Athens
Jim Gaffigan live in Athens (Sold Out)
The Fixer Upper Tour
22nd November 2018
Φιλολογικός Σύλλογος Παρνασσός
Οpening Act: Ted Alexandro
20:45
Jim Gaffigan is a Grammy nominated comedian, actor, New York Times best-selling author, top touring performer, and multi-platinum-selling father of five. Gaffigan is known around the world for his unique brand of humor which largely revolves around fatherhood and his observations on life and food. With multiple projects in motion, Gaffigan is currently on his Fixer Upper arena and theater stand-up comedy tour, with dates through the end of the year.
In a dramatic turn, Jim will next be seen in IFC Films/Showtime's, The Bleeder, opposite Liev Schreiber, Naomi Watts, Ron Perlman and Elisabeth Moss. The sports drama follows the true story of boxing champ Chuck Wepner (Schreiber) who in 1975 went 15 rounds in the heavyweight world championship against Muhammad Ali. Gaffigan portrays John Stoehr, the ever-loyal best friend of Wepner. The Bleeder premiered at the Toronto International Film Festival with a US release date to be announced shortly. Jim was also recently cast as a series regular for season 3 of FX Networks' Fargo, playing the role of police deputy, Donny Mashman. Season 3 will premiere spring 2017
Gaffigan recently wrapped production on Apex Entertainment's drama, Chappaquiddick, opposite Jason Clarke, Ed Helms, Bruce Dern and Kate Mara. The film follows the story revolving around Senator Ted Kennedy (Clarke) and the tragic car accident that took the life of Mary Jo Kopechne (Mara) in 1968. Gaffigan plays District Attorney Paul Markham, who was on the island of Chappaquiddick during the accident.
On the small screen Gaffigan and his wife, Jeannie, recently ended their critically acclaimed semi-fictitious television show, The Jim Gaffigan Show, after two seasons on TV Land. The series, lauded by The Los Angeles Times as "Fun and Funny," and People Magazine as "One of Summer TV's bright spots," was written by Gaffigan and Jeannie who both also served as executive producers and showrunners. The single-camera comedy co-starred Ashley Williams, Michael Ian Black, and Adam Goldberg and revolved around one man's struggle to balance fatherhood, stand-up comedy and an insatiable appetite.
Last December, Gaffigan became one of only ten comics in history to sell out Madison Square Garden and few months prior, Gaffigan had the honor of performing for Pope Francis and over 1 million festival attendees at the Festival of Families in Philadelphia. Additionally, streaming site Pandora recently announced that Jim is the most popular comic among its users with over 647 million spins to date.
Gaffigan's fourth special (Beyond the Pale -2006, King Baby -2009, Mr. Universe -2012), Obsessed premiered on Comedy Central in 2014 and the DVD/CD was released soon after by Comedy Central Records. Obsessed premiered at #1 on iTunes which marked the fifth time Gaffigan reached the Top 25 Comedy category on iTunes. The album also earned a nomination for 'Best Comedy Album of the Year' at the 2015 Grammy Awards. All four of Jim's specials recently premiered on Netflix.
In 2013, Jim's first book, Dad Is Fat, was released by Crown Publishing and debuted at #5 on The New York Times Bestseller's List and remained on the list for 17 weeks. His second book, Food: A Love Story, was released in the fall of 2014 and debuted at #3 on The New York Times Bestseller's List.
In addition to his own television show, widely popular stand-up comedy and best-selling books, Jim has guest starred on many television comedies and dramas, ranging from "Portlandia" to HBO's cult hits "Flight of the Concords" and "Bored to Death" to dramatic roles in all three versions of "Law & Order." On the silver screen, his credits include Three Kings, Hot Pursuit, Super Troopers, and 17 Again amongst many others. Gaffigan costarred Peter Sarsgaard and Winona Ryder in Magnolia Picture's 2015 drama, Experimenter.
Gaffigan was born in Elgin, Illinois and is the youngest of six children. He currently lives in Manhattan with his wife Jeannie, and their five children.
Links:
Website – www.jimgaffigan.com
Facebook – www.facebook.com/JimGaffigan
Twitter – www.twitter.com/JimGaffigan
Instagram – www.instagram.com/jimgaffigan/
Venue:
Parnassos Hall
6, Ag. Georgiou Karytsi Square
10561 Athens
+30 21 0322 1917
www.events.lsparnas.gr