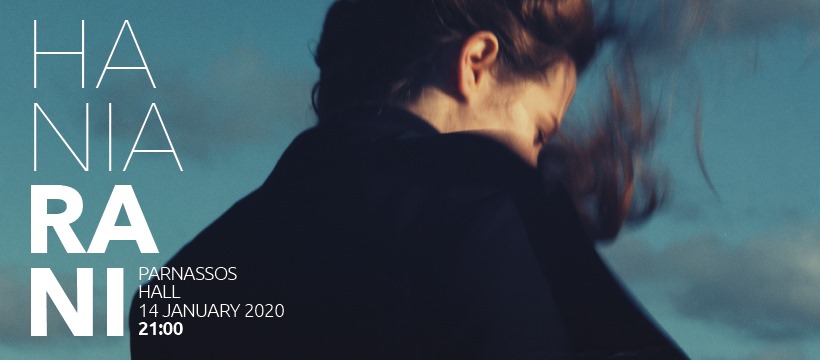 Hania Rani
Hania Rani live in Athens
14 January 2020
Parnassos Hall
21:00
Perfectionist and expertly crafted Polish pianist, musician and composer Hania Rani is coming to Athens, for the first time, putting together minimalistic instrumental masterpieces on Tuesday 14th January 2020 at Parnassos Hall.
"I think I am the same person as an artist and as a person. Music is my way of communication and I see the art, the music as a whole thing, with no borders, divisions, or even genres."
Hania Rani is a pianist, composer and musician who splits her life between Warsaw, where she makes her home, and Berlin where she studied and often works. She has written for strings, piano, voice and electronics and has collaborated with the likes of Christian Löffler, Dobrawa Czocher and Hior Chronik, and released an album with her Polish group tęskno last year. She has performed at some of the most prestigious venues in Europe – from the National Philharmony in Warsaw, to Funkhaus in Berlin, to The Roundhouse in London (where she made her debut at the Gondwana 10th anniversary festival last October) and at festivals such as Open'er, Off Festival and Eurosonic. Her compositions for solo piano were born out of a fascination with the piano as an instrument, and her desire to interpret its sound and harmonic possibilities in their entirety and in her own way.
Esja is her debut solo album and for Rani it is her first, real, personal statement as an artist. Recorded at Rani's apartment in Warsaw (the piano room has a beautiful reverb and the space has become part art studio and part sound laboratory for Rani) and at her friend Bergur Þórisson's studio in Reykjavik, Esja is a series of beautiful melodic vignettes. Sensual, sensitive, rhythmic, atmospheric, free but harmonious, beguiling and hypnotic, collectively they project a sense of unlimited space and time.
Rani grew up in Gdansk with her parents (a doctor and architect) and surrounded by music and films. Initially inspired to study classical music, she was introduced to jazz and electronics at music school, widening her interests and as she puts it, "mixing Chopin & Schostakovitch with Dave Brubeck and Moderat". Other inspirations include composers such as Max Richter, Esbjorn Svensson, Miles Davis, Nils Frahm, Murcof, Portico Quartet, Radiohead and even The Beatles. But Rani's inspirations aren't just musical, she has drawn inspiration from places she has lived and visited. And inspiration comes too from visual arts. For Rani it is often an image or a colour that comes first, what she calls a sound image. One such inspiration was the collage artist Anthony Zinonos whose artwork adorns the cover of Esja and whose work Hania first found when she was working on the music that would become this album.
Beautifully sculpted, Esja opens with the gorgeous Eden, which features a chorus full of warmth and grace. Sun is inspired by the sensation of the warmth of the sun, but also by the feeling of being small in the face of the universe. Hawaii Oslo takes its name from the film of the same name, but is inspired by the contrast of mood and location, always changing as you listen. Biesy is named for the Bieszczady Mountains and a memory of driving in Bieszczady's forests and twisted roads with friends. The wistful, charming, Luka, is a love song written for someone who affected Rani's music profoundly. The shimmering Glass is named for its fragility, but also for its many colours, like glass caught in the light. Today it Came is the only song from the album recorded on a grand piano (belonging to Olafur Arnalds in his studio in Reykjavik). Inspired by the piano, Rani wrote a simple, beautiful tune, and when asked what the song was, she replied "it came today" and that became the title of a memorable piece. Finally, Esja is the named by the mountain in south-west Iceland (which can be seen from almost everywhere in Reykjavik) and because of constant changes to the weather there, it always looks different. It therefore became the perfect title for one of her favourite pieces, one that sounds different every time she performs it. And in turn it became the perfect title for her debut album. A powerful, entrancing statement that offers new delights and new insights on every listen and announces Hani Rani as a major new artist.
Links:
Website: www.haniarani.com
Facebook: www.facebook.com/haniaranimusic
Instagram: www.instagram.com/haniarani
This event will be seated.
Ticket Prices:
26€ – A' Zone
22€ – Β΄Zone
18€ – Upper Tier*
*The seats on the upper tier aren't numbered. The access is only by stairs.
Viva Network:
Online: www.viva.gr/tickets/
By phone: 11876
Points of sale:
Reload
Seven Spots
Wind Stores
Yoleni's (Solonos 9)
Evripidis Bookstores
Viva Spot Technopolis City of Athens (entry via Persefonis str., Mon-Sat 11:00-19:00)
Venue:
Parnassos Hall
6, Ag. Georgiou Karytsi Square
10561 Athens
+30 21 0322 1917
www.events.lsparnas.gr