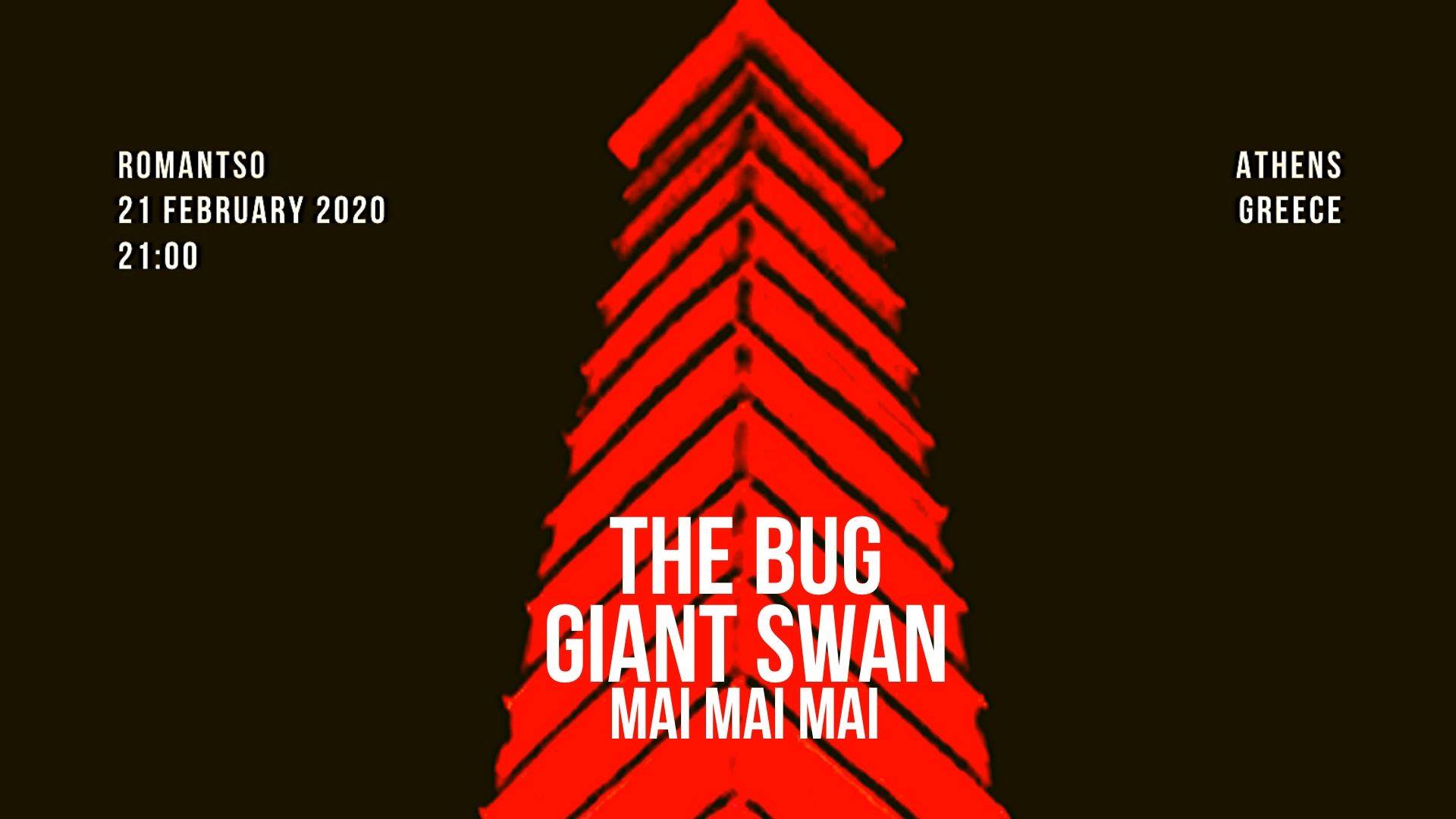 Giant Swan + The Bug + Mai Mai Mai
Giant Swan + The Bug
+special guest: Mai Mai Mai
21st February 2020
Romantso
21:00
Giant Swan, Bristol's foremost experimental techno duo and undoubtedly one of the best exhilarating acts in underground music today, is returning to Athens with a riotous live set full of beats and brains that promises to offer a more open-minded and inclusive dance experience on Friday 21 February at «Romantso».
"A Giant Swan show is heavy and direct; there's a physicality you won't find at most live techno shows. The duo throw themselves behind every synth squeal, crashing snare and vocal wail with an energy often echoed by its audience."
Mixmag
'They're not the first to approach techno from a hardcore punk sensibility, but their energy on stage is pushing them into a league of their own. Imagine Container and Alan Vega attempting a peak-time techno record, and you're halfway to grasping the Giant Swan sound'
Resident Advisor
Currently docking in Bristol, UK, Giant Swan is the brainchild of Robin Stewart & Harry Wright; an acerbic marriage of energised, aggressive dance music, quaking bass and hypnotic electronic noise. Having built a formidable reputation for their hi-octane improvised performances, relentless international touring and a succession of acclaimed EPs on respected imprints such as Whities, Timedance and Mannequin, 'Giant Swan' sees the pair stepping things up significantly, with a full-length musical statement that bristles with the galvanising energy for which they're known while introducing a fresh depth, range and sonic nuance to the equation.
Named after a beloved track by screamo overlords the Blood Brothers, Giant Swan was originally conceived as a side project from their roles as guitarists in the band The Naturals, with formative influences such as My Bloody Valentine and Lightning Bolt being distilled over time with inspiration from the varied and always vibrant local music scene in Bristol. From dub soundsystem teachings at the Trinity Centre and Black Swan or the fiercely experimental early transmissions of friends in the Young Echo collective, Giant Swan have grown to take their place as one of the most singular and determined groups to emerge from the UK underground in many years.
Whilst not belabouring the point, this outsider status is important to note: despite rousing audiences at festivals such as Unsound and Berlin Atonal, and sharing stages with the likes of Nina Kraviz, Objekt and Actress, Giant Swan have always approached their craft in an entirely different way to most of their contemporaries. Musically this is evident in Stewart's contorted vocal textures married with shards of abused guitar noise that cut through the four to the floor heaters, but also comes across in their conceptual approach – be it onstage, facing each other whilst flanked by walls of amplifiers or in interviews, where the pair have consistently stressed the need for inclusive clubbing environments based on equality, enjoyment and an ongoing, unflinching critique of the culture.
At the same time they've been subverting expectations on the international techno circuit, they've also had one foot in a more experimental camp, equally at home playing alongside Moor Mother (for whom they've produced a track on the forthcoming Analog Fluids of Sonic Black Holes album) at leftfield arts festivals as they are sending it in at legendary clubs like Berghain and Tresor. This year they've also made tentative steps towards putting themselves in front of a more mainstream audience; with two appearances at the revered Glastonbury Festival, a high profile support slot at the Royal Albert Hall with indie heroes The Horrors (who they have also recently remixed) and a specially commissioned live set for BBC Radio 1.
An uncompromising statement of intent, '55 Year Old Daughter' sets the tone: metallic KO drums and an earworm hook constructed from a scissored vocal sample, the album lurches into life with perhaps the closest the band have come so far to an out-and-out banger. A track that's simultaneously deconstructed avant-noise and devastating DJ weapon. The aptly titled 'Pandaemonium' melds human breath and circuitry for a paranoid cyborg night drive, while 'I, As Proof' sees the band's intentions wrought clear in aching melodic progressions beneath hulking bass weight. The Alvin Lucier-style voice effects which begin 'Not A Crossing' suggest brooding ambience – albeit more dark polluted skies than little fluffy clouds, whilst the palpitating bass tones and dystopian sound design of 'OPAFS: R' make for a corrosive slab of electronic funk. The hardcore continuum bass kick of 'Weight Of Love' suggests a loose lineage with a certain hard-line strain of UK electronic music – think British Murder Boys or the early work of fellow Bristolian Vessel, which then gives way to the deep hymnal of 'Peace Fort 9'; an atmospheric slice of dreamy murk, which touches upon the paganistic ritual magick of Coil, or even the bleak, beautiful minimalism of Grouper. The hyperkinetic BPMs of Rian Treanor and Ngeye Ngeye Tapes are evident in the frenzied stomp of 'YFPHNT' before 'Spisbah' closes proceedings with a dubbed out hall of mirrors, alarms ricocheting off a monochromatic chant.
With such audible harshness, anger may seem to be an energy here, but Giant Swan are in fact less riled than the music might suggest, with the overall palate more an unconscious outcome than a planned design:
"To me Giant Swan means lots of feelings and lots of fun. It's like a mucky brain, with everything passing through it and being rendered as our music. It's a vehicle for us to spread our want for a more open-minded and inclusive dance experience, fuelled by a conscious mantra with tongue firmly in cheek", proclaims Robin, whilst Harry adds, "Giant Swan is just the name of a never-ending story. A statement that changes with each recipient, centred around tolerance, inclusion, self-sufficiency and TRUST. Oh and also weed and beats. It's about getting stoned and losing ourselves to each other's consciousness. This record is a conversation between aesthetics. A dialogue where a question is answered with another question until everyone in the room is left scratching their heads, or moving their feet."
On November 8th Giant Swan will release their highly anticipated debut album, on their own freshly-minted label, Keck.
Links:
Soundcloud – www.soundcloud.com/giantswan
Facebook – www.facebook.com/pg/giantswanmusic
Twitter – www.twitter.com/giantgiantswan
Instagram – www.instagram.com/giant_swan
Ticket Prices:
15€ – Early Bird
18€ – Presale
22€ – Box Office
Ticket Presale:
Online: www.viva.gr
By phone: 11876
Points of sale:
Reload
Seven Spots
Wind Stores
Yoleni's Greek Gastronomy Center (Solonos 9)
Evripidis Bookstores
Viva Spot Technopolis City of Athens (entry via Persefonis str., Mon-Sat 11:00-19:00)
Venue:
Romantso
Anaxagora 3-5
Athens 105 52
Phone: 216 7003325
[email protected]