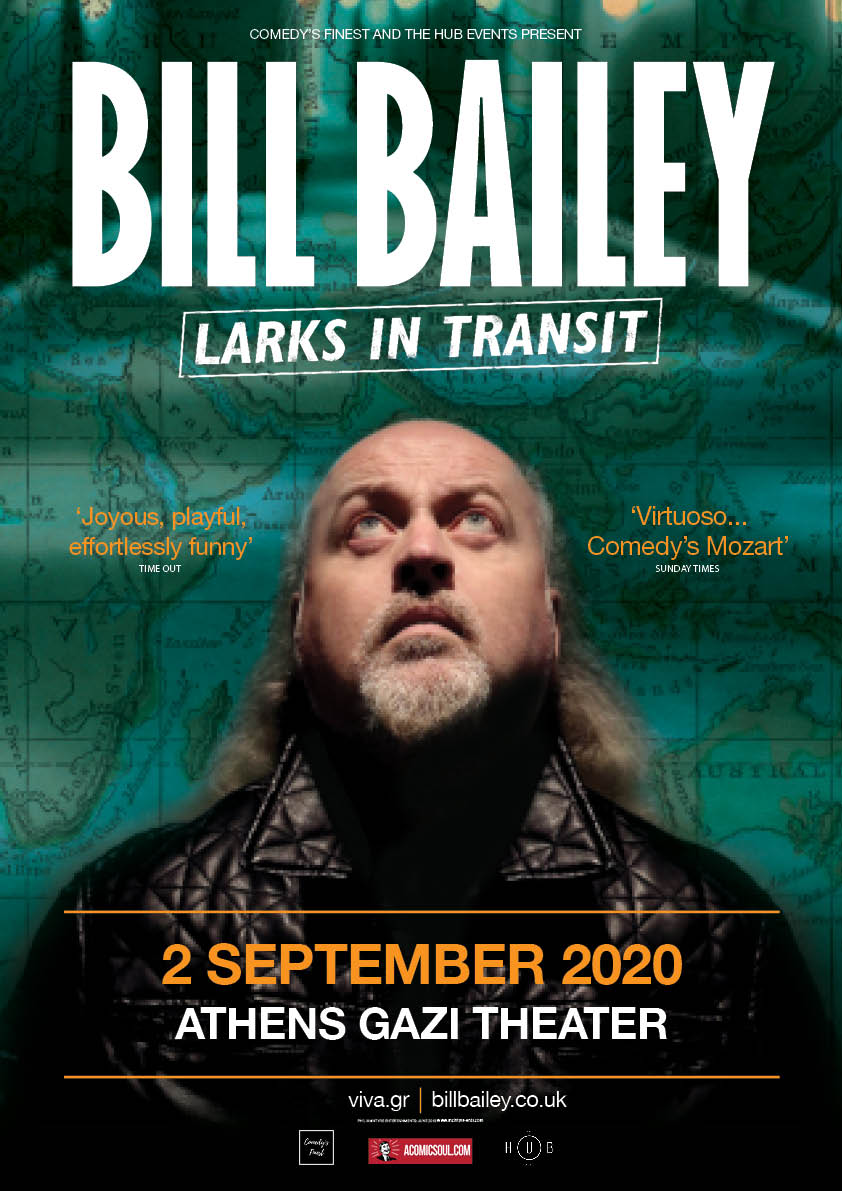 Bill Bailey live in Athens
New show date!
Wednesday 2nd September 2020
Gazi Theater
21:00
While this decision comes at a time of universal uncertainty, we take the safety and health of our guests, staff and community very seriously.
We urge everyone to follow the guidelines and protocols put forth by public health officials.
To prevent the spread of COVID-19 Bill Bailey's show has been postponed for 2nd September 2020. Ticket holders will have their March tickets honored for the new September date.
For fans who can't attend the event, refunds will be made between 21st April to 4th May.
Thank you all for your continued support and we look forward to seeing you in September!
"Virtuoso…Comedy's Mozart"
The Times and The Sunday Times
"Joyous, playful, effortlessly funny"
Time Out London
"Bailey cuts a world-beating swathe all of his own"
Evening Standard – GO London
"at the top of his game"
The Times and The Sunday Times
"approaching the status of national treasure"
The Guardian Guide
British legend and award – winning surrealist comedian Bill Bailey, one of the top and loved comics for years, is about to hit Athens with his latest new ambitious comedy and music extravaganza on Monday 16 March 2020 at Gazi Theater.
Bill Bailey is a comedian, musician, writer, author, director, presenter and keen stand-up paddle-boarder known for his live shows such as "Part Troll", "Tinselworm", "Qualmpeddler" and "Limboland" and his work on the television programmes "Black Books", "Never Mind the Buzzcocks" and "QI". Bill Bailey is perhaps Britain's most beloved comedian. The wonderful musical comedian – he has been dubbed both 'comedian Mozart' and 'comedian Mike Oldfield' – has toured with his acclaimed performance "Larks in Transit" in the UK since last winter. In the spring, he will come up with new performances with his travel stories from twenty years of touring. Bailey has reached the top of the comedy, thanks to his very personal style to the great enthusiasm of the audience. The Daily Telegraph calls him "the smartest comedian of his generation". In "Larks in Transit", he highlights politics, philosophy, the pursuit of happiness, death metal and a disturbing meeting with Paul McCartney.
Links:
Website: www.billbailey.co.uk
Facebook: www.facebook.com/BillBailey/
Twitter: www.twitter.com/BillBailey
Instagram: www.instagram.com/the_bill_bailey/
Ticket Prices:
54,00€ – A' Zone
46,00€ – B' Zone
38,00€ – C' Zone – running low
30,00€ – D' Zone – sold out
Ticket Presale:
Viva.gr Network
Online: http://bit.ly/2t1enMz
By phone: 11876
Points of sale:
Reload Stores
Wind Stores
Yoleni's Greek Gastronomy Centerr (9 Solonos Str.)
Βιβλιοπωλεία Ευριπίδης – Evripidis Bookstores
Viva.gr Spot Technopolis City of Athens (entry via Persefonis str., Mon-Sat 11:00-19:00)
Venue:
Gazi Theater
7- 11 Iera Odos, Gazi
118 54, Athens
+30 213 0185040